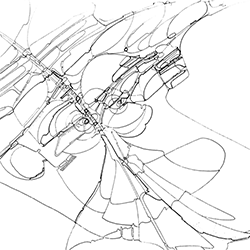 "I welcome the opportunity to share this artistic experience with those looking for a higher level of enjoyment and harmony with their surroundings."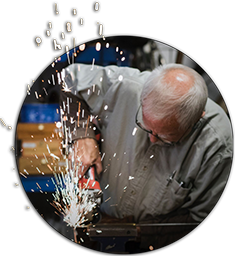 Since graduating with a fine arts degree from the University of Iowa, James G. Jenkins has developed a variety of skills that he brings to bear in each work he creates. His 20 years in manufacturing gave him a practical sense of 'how things work' and an advanced knowledge of metal fabrications. His work reflects an eclectic and deep understanding of welding, forging, mechanical engineering, drawing, painting, sewing, woodworking, computer graphics, and electrical wiring.
His work merges these past experiences in industrial America with his own personal studies in philosophy, spirituality, history, physics and other sciences, and our current societal state. Jenkins has been creating art for a variety of individuals, groups and corporations since 1995. His process is an organic one. Initially, he takes an idea that is presented by a personal or external event and builds upon it with related materials. He follows the ideas where they lead him and the results create a very deep, very visceral response in those who view the final work.
Commissioned work follows much the same process. A client suggests a need and a discussion ensues so that he fully understands all the elements related to the expressed need. What follows is a multifaceted process that includes research and contemplation. Jenkins then presents the client with a sketch reflecting his proposed piece. At this point, the client agrees to proceed or not. Depending on the complexity of the project and amount of research involved, this preliminary process has a sliding fee scale.
The artwork you find on these pages is representative only. We hope you enjoy what you see and that you will consider purchasing or commissioning a work for yourself, a loved one or for your work or business.
"My sculptures provide a theme for both intellectual and visual curiosity. They contain road maps directing the observer through a process of distillation and fusion of contrasting ideas and investigative humor."
- James G. Jenkins

"With an eye towards extending a metaphor, augmenting a visual pun, or obscuring a reference, I always attempt to make myself unclear with the best of intentions."
"Each piece offers a message for the owner to enjoy privately and outwardly."
- James G. Jenkins